All Natural Dog Treats & Chews
Dogdeli are all-natural, premium dog treats and chews, made from 100% U.S. sourced ingredients, handcrafted in South Florida. Now offering fresh frozen dog food.
True dog treats. Obsessively crafted. Only premium ingredients.
GENTLY AIR-DRIED
Preserve nutrients & flavor. Keep vitamins, minerals and enzyme intact.
PREMIUM INGREDIENTS
Gluten Free, GMO Free. No Salt, No Sugar added.
ONLY NATURAL PRODUCTS
High-quality raw meat. No antibiotics. No hormones. Never outsourced.
PICKY EATERS APPROVED
Mouthwatering and Irresistible at First Sniff.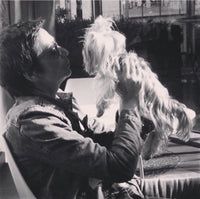 About
DOGDELI is a premium Miami-based dog treat brand offering top quality holistic & all-natural dog treats and chews. 
DOGDELI is where health meets delicious taste. We take a holistic approach to your dog's nutrition and recommend our nutritious and delicious treats as a part of the lifestyle of your happy and healthy dog. 
DOGDELI uses only high quality, health-boosting ingredients such as hormone & antibiotic-free meats, probiotics, farm-fresh fruits & veggies and healthy seeds & herbs to improve the wellness, digestion, and vitality of your dog. 
Dogdeli has the best dog treats available online. We're one of the most trusted dog treat brands because of our natural and organic ingredients and our premium dog treats. Our dog treats are made in the USA and never have any preservatives, hormones or antibiotics. We aim for our dog treats to be healthy and delicious for all dogs to enjoy - even the picky eaters!
We have healthy dog treats for every occasion. If you're looking for dog birthday treats for your dog's special day, or your dog has a special diet and needs no protein dog treats, we have you covered.
We Believe...
DOGDELI is a family owned and operated business focused on making the highest quality dog treats available. Our products are made in the US in our Florida Kitchen, where we produce small batches of dog treats from ingredients chosen with careful considerations to what a dog needs to stay healthy and active and to live a long and happy life.
Our Ingredients are:
- fresh
- hand-picked
- high-quality
- sourced from trusted suppliers
- produced in the United States
We offer dog chews and healthy dog treats for dogs with many different dietary restrictions. We formulate our dog food with every diet in mind, so you'll be able to find something that matches your dog's needs. We use natural and organic ingredients in all of our dog treats, and our goal is to provide premium dog food for your pup.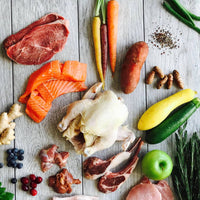 Finally, I found a product that is good and healthy for my puppy. He goes crazy when I open a bag of chicken jerky. I have no problems training him with jerky in my hand. He is willing to do anything for it. Thanks. 

Mariam G.
My dog Mia has food allergies and I usually do not give her anything commercially sold. I decided to buy a small bag of these treats and slowly gave them to her to try. She loved it and which is the most important , I do not see any side effects from these patties. 

Leonore Ramos
My dogs love these pretzels! When I need them to come inside the house, all I have to do is shake the box & call "good dog pretzels!" And all 3 of them come running! They sit in a row, tails wagging, catch them in mid-air, and ask for more. 

Susan
A message about current events
Dear Pet Parents, here at Dogdeli, the health and well-being of our customers and employees is our top priority. All our employees are taking precautions and wearing gloves while cooking or packing your order. Our online store is continuing to operate. Free shipping applies for orders over $100.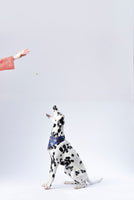 Healthy & Holistic Dog Treats
If your dog is a picky eater, no worries! We have the best solution for you. We sell dog food toppers to help your picky eater enjoy their dry food. They won't be able to get enough with the help of our toppers!
We have dog food for puppies and senior dogs. If your dog is older and has any jaw or dental issues, our soft dog treats are the perfect solution. They're easy to chew and your dog will still be getting the same tasty treats they love.
Our small dog treats will give your puppy the nutrients they need to grow healthy and strong. Our small dog treats are great for training any dog. Even if your dog is an adult, but they're still petite, our dog food for small dogs caters to them perfectly. Our all natural dog food for small dogs is the best on the market. There aren't many dog treat brands that cater to smaller dogs, but we make sure every dog has immense treat options. Shop small dog treats on our website to find high quality dog food for small dogs that they'll be sure to love.
Natural Dog Treat Brands That You Can Trust
Many dog treat brands out there include preservatives, hormones and antibiotics to their dog chews and treats. Our brand is unique because we make sure our ingredients are all natural and organic. Your dog deserves premium dog chews and treats, and that's exactly what we offer. Not many made in USA dog treats have the same benefits ours do.
Among our most popular healthy dog treats is our dog jerky treats and dog chew sticks. Our all natural jerky treats are made with one ingredient and taste delicious, all while providing nutritional benefits like lean proteins and vitamins of all kinds.
Much like our jerky treats, our dog chew sticks provide many health benefits, particularly for your dog's oral health. Our long lasting chews for dogs can keep your dog busy throughout the day. Our dog chew sticks are made to last for about 45 minutes, but they can last longer than that depending on how much your dog chews on them!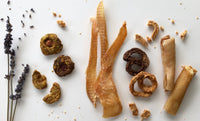 Dog Chews That Are Long Lasting
Long lasting chews for dogs are a great treat that can significantly impact your dog's oral health. By using these chew sticks, your dog will be strengthening their jaw and scraping plaque and tartar from their teeth. These long lasting chews for dogs can also keep younger dogs at bay when they have the urge to chew on something in the house. It's much better for your dog to chew on our dog treat sticks instead of furniture, shoes or other household items!
Many customers rave about our dog eating sticks. These sticks for dogs help prevent the buildup of tartar and plaque on teeth, so your dog can stay without any oral issues. With the combination of the oral health benefits, the distraction from chewing up other items in the house, and the tasty flavor of our dog treat sticks, it's no wonder that they're among a best seller at Dogdeli! You can order our dog eating sticks today or see what other customers had to say about our dog treat sticks.
Our sticks for dogs aren't the only crowd favorite. We make all of our organic treats with total satisfaction in mind. We're proud to create products like sticks for dogs, chews and other healthy dog treats that so many enjoy and love.
If you're looking for the best holistic dog treats made in the USA, look no further. You can order any of our chewy dog treats and chews online today. We offer free shipping on orders of our holistic dog treats after you spend $75. Browse our selection of chewy dog treats, food enhancers, treats for dogs with allergies or special diets and more right here on our website today! Our dog treats are made in the USA by dog owners, so we know exactly what dogs love to snack on! Get started shopping today or get in touch with us to learn more about our made in USA dog treats!