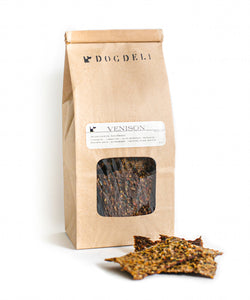 Our Venison Patties are handmade and gently air-dried organic wild venison treats. It's an excellent source of phosphorus, iron, essential minerals, B vitamins and linoleic acid that can benefit your dog's heart health. Venison has less cholesterol than turkey, beef, and chicken and is very low in saturated fats. These treats are savory, crunchy, and easy to break. They're also are a great source of protein for dogs prone to allergies.
Our venison patties are 100% natural, raw & gluten free! They are free from refined sugar, salt, oils, artificial flavors, hormones and antibiotics.

Weight: 4 oz
Ingredients: Organic wild venison, carrot, goji berries, spinach, rosemary, flax seeds and brown rice.
Instructions: Do not refrigerate. Store in a cool, dry place.
Shipping: We ship anywhere in the United States. Flat rate UPS ground - $7.99. Free shipping for orders over $100